CAMPSITE WITH WATER PARK IN VIAS IN THE HÉRAULT
For a successful family camping holiday, water games such as fountains, water jets and rocking basins entertain and surprise young and old alike at the water complex on our Mediterranean campsite!
The swimming pool is the daily rendezvous of your stay, for family games or moments of relaxation at the water's edge. This area is reserved for our guests only.
Just a few hundred metres from the Mediterranean Sea, you can enjoy a freshwater water park at camping Vias! Accessible from your mobile home rental as well as from the campsite pitches, the swimming pool will be a complementary swimming area to the fine sandy beach of Vias, just a few steps from the Paradis Le Cayola campsite! Under the sun of Languedoc Roussillon, holidaymakers can enjoy a relaxing holiday and a wide range of outdoor activities, everything you need for an unforgettable and fun family holiday in the south of France.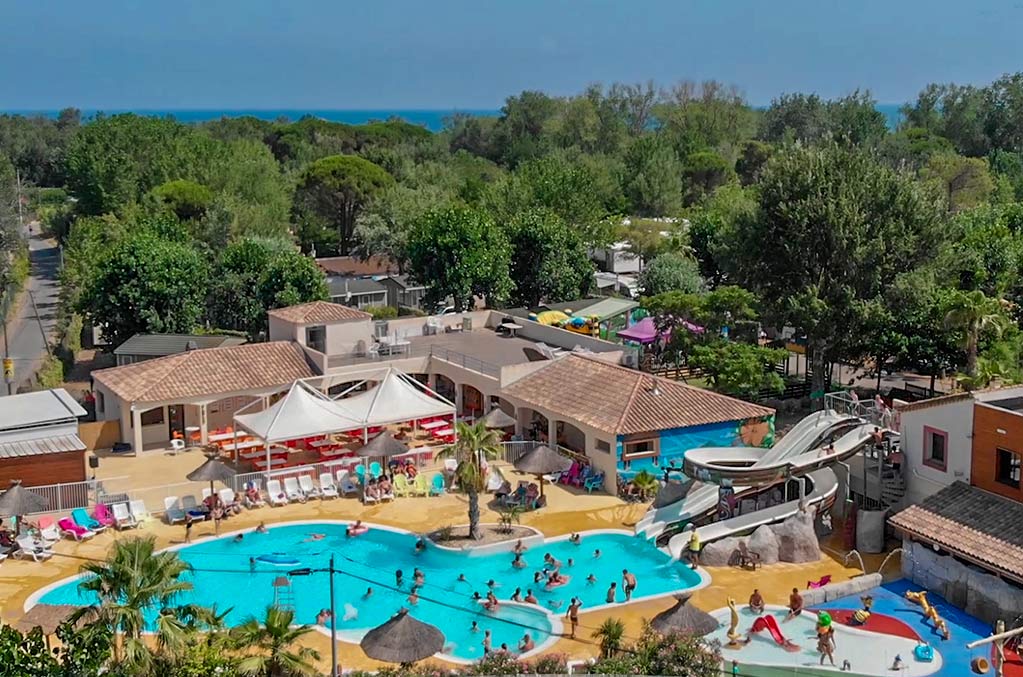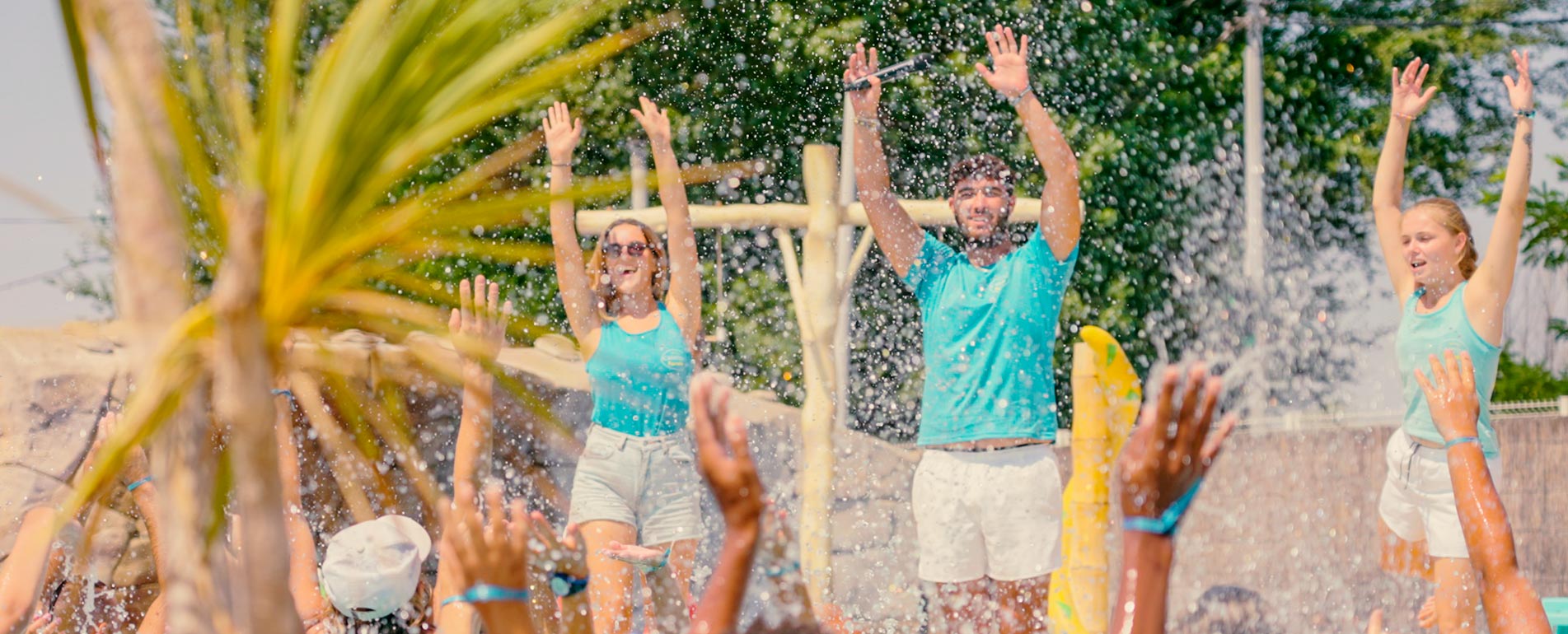 The campsite's aquatic area
Located opposite the bar-restaurant terrace, the swimming pool area has a large, exotic pool and a shallow pool for younger children. Designed for the whole family, the Vias campsite with water park has large slides, a jacuzzi, a solarium and an aquatoon area with water games and a small slide for fun in the paddling pool!
For your comfort, the pools are heated from the beginning of the season, so you can enjoy the pool from opening to closing.
The spacious pool areas are also tastefully planted with numerous deckchairs, armchairs and parasols, and the palm trees create an exotic atmosphere conducive to relaxation. For obvious reasons of hygiene, swimming shorts and other long clothes are forbidden.
Visit Paradis Le Cayola if you are looking for a campsite that offers:
a swimming pool with slide
a heated swimming pool
a paddling pool
a jacuzzi
a water park with aquatoon for children
AQUATOON, THE WATER ATTRACTION FOR THE LITTLE ONES
At the Vias campsite with aquatic area, numerous activities and entertainment await you: aquafun, aquagym and aqua-dance sessions in the company of our entertainers or water games such as water polo or wibit. The midday sun dances are also a great way to have fun during your stay in the water at camping Paradis Le Cayola.
At the campsite with water park in Hérault, your children will be in a real corner of paradise. A vast play area will delight the little ones in our water park, the aquatoon: with a surface area of more than 100 m2, this outdoor swimming pool invites you to meet friendly creatures with surprising water jets, tilting basins, fountains in the shape of pink flamingos, waterfalls, watering snakes, spitting frogs and naughty dragons watering the little world that comes within their reach.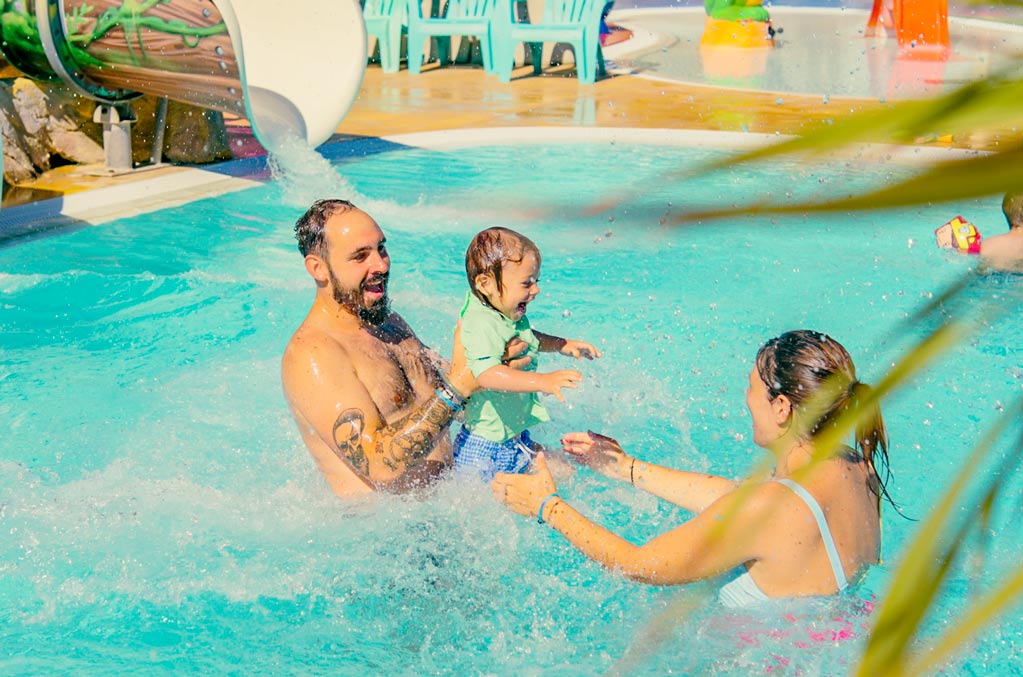 A refreshing space full of surprises, the aquatoon promises a lot of fun for the whole family.
The youngest children are gently introduced to the water in a safe area with a non-slip floor. Adults are surprised by the rocking basins, to the delight of their children!
The play area is a real playground designed around water: here the little ones make their first holiday friendships.
A SWIMMING POOL WITH WATER SLIDES
The water slides are very popular with the youngest children and promise hours of fun for them. The swimming pool at Camping Paradis Le Cayola has a two-lane pentaglide that invites the whole family to race. The water-fed slope offers a fast slide and a bump increases the thrill. A splashy finish in the water is guaranteed!
Higher up, a spiral slide awaits the more adventurous: its highly secure tube structure makes a complete U-turn before cascading into the pool, passing over the pentaglide tracks. The waterslides form a harmonious whole, with a decor of rocks, totems and exotic plants.
As you can see, the water park at Vias Beach in the Hérault department is a perfect place to enjoy exceptional moments with friends or family.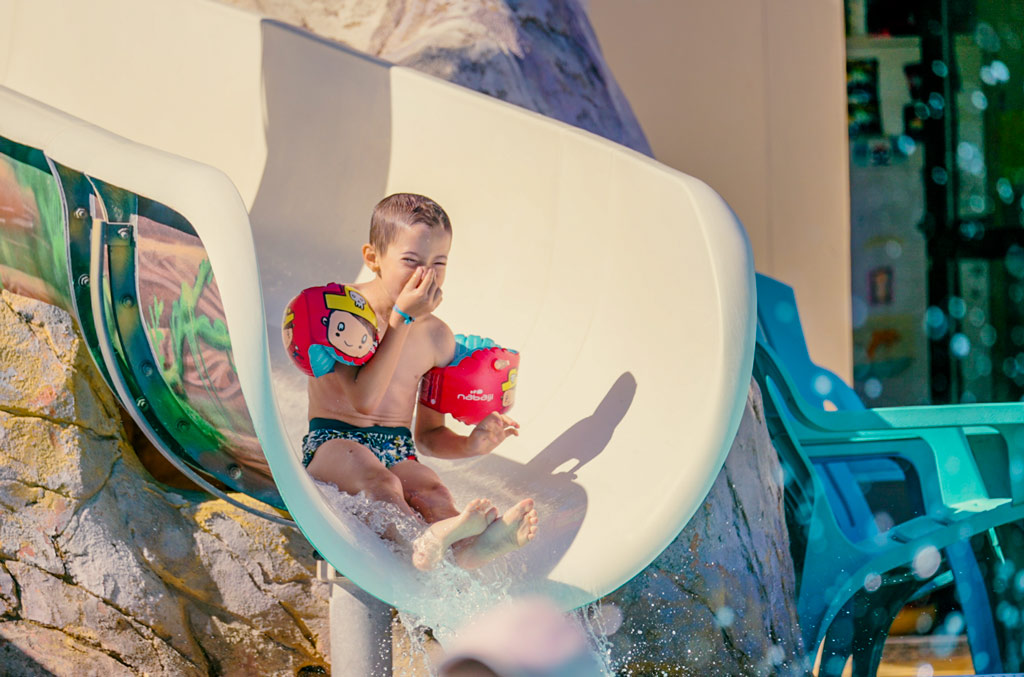 What campers say about the swimming pool at our campsite in Vias
Daniel
«Très agréable et très bien aménagé, pour un prix démocratique, comprends piscine petit et grand, aire de jeux petit magasin, sécurisé et proche de la mer. 
Mélanie
Très beau camping, sécurisé piscine propre et pataugeoire au top pour les tout petits. Animations du soir super ainsi que le resto on y mange très bien.
Première vacances pour notre fils de 3 ans qui s'est éclaté pendant 1 semaine.
DÉCOUVREZ LES ANIMATIONS ET LOCATIONS DE NOTRE CAMPING