Family campsite in Herault
A campsite club with entertainment for the whole family in Vias
Want to spend your next vacation in a family campsite in the Hérault? Come and discover the activities of the Paradis Le Cayola campsite in Vias : Tag archery or laser game. Original and team activities to have fun in family.
Want to cool off? Come and try the ventrigliss or the Wibit. Compete against the Cayola team during the Wibit afternoon or show us your talents on the ventrigliss!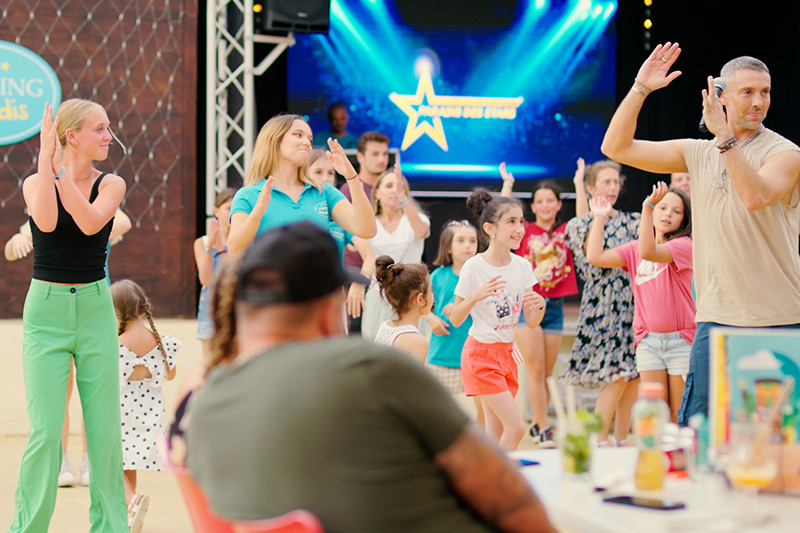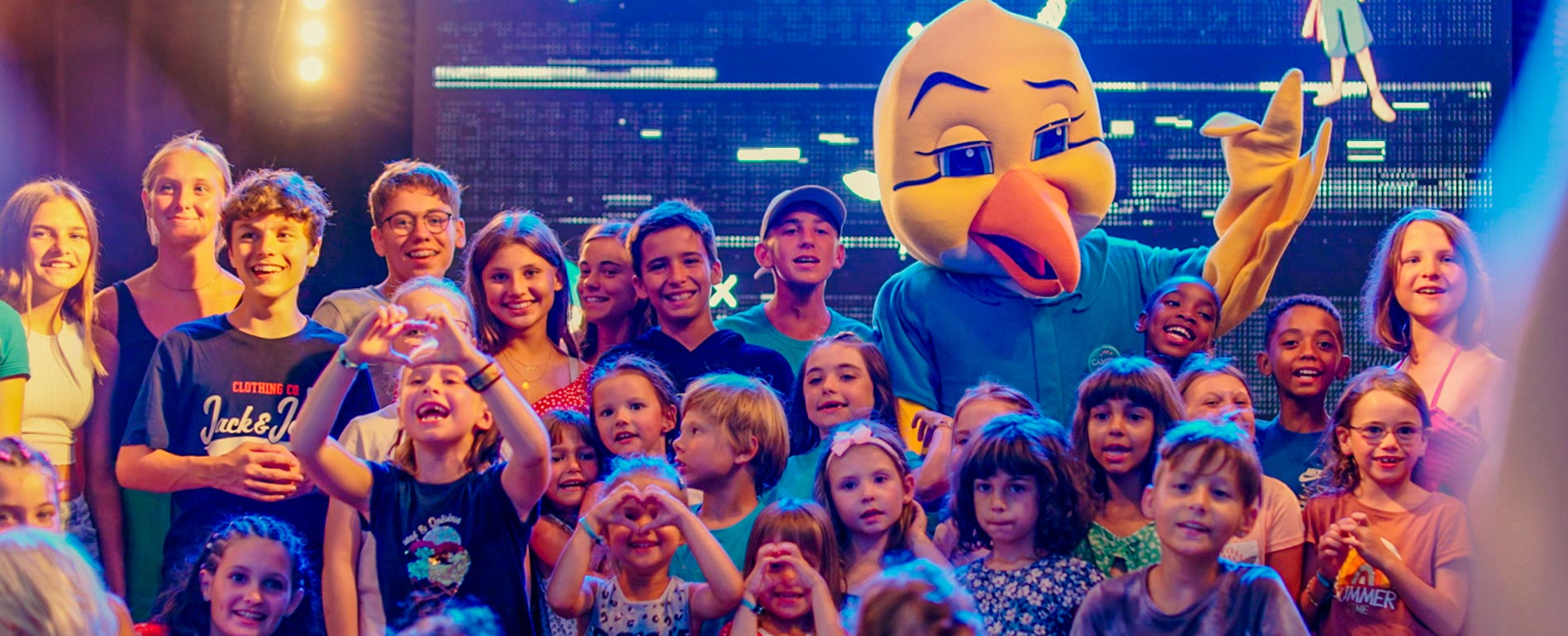 Aquafun: aquatic animation
In the water, relaxation is guaranteed!
The Vias campsite with swimming pool offers you several times a week aquafun sessions; an excellent way to exercise gently and lightly.
A dynamic activity all in music for the form or even to relieve some muscular tensions.
At the family campsite in Vias plage, we take care of you!
Piki Club for the youngest
At the family campsite in Vias, we take care of your children from 5 years old!
The Piki club is open from July 01 to August 30 for various activities that will delight your children.
On the program: painting, coloring, sports games, manual activities, make-up and also choreography.
For the pleasure of parents, every Friday, a show will take place on stage.
Don't hesitate to register your children at the Piki club to enjoy a moment together, our animators will be delighted to take care of them!
Your child is under 5 years old? Don't worry, he or she can participate in the mini discos that take place every evening in July and August, as well as in the glitter tattoo and make-up workshops.
And for their greatest pleasure, they can dance and take pictures with our mascot PIKI!
PLAYGROUNDS AND BOUNCY CASTLE
In order to delight families, Paradis Le Cayola is equipped with 2 playgrounds for children: one for children up to 8 years old and another for older children.
A slide and a monkey bridge for the adventurous as well as a small cabin are available in this park secured by barriers.
Parents will be able to see big smiles on their children's faces.
The playgrounds are perfect for your children to make new friends at the campsite.
They can also bounce in the bouncy castle under the protective eyes of their parents.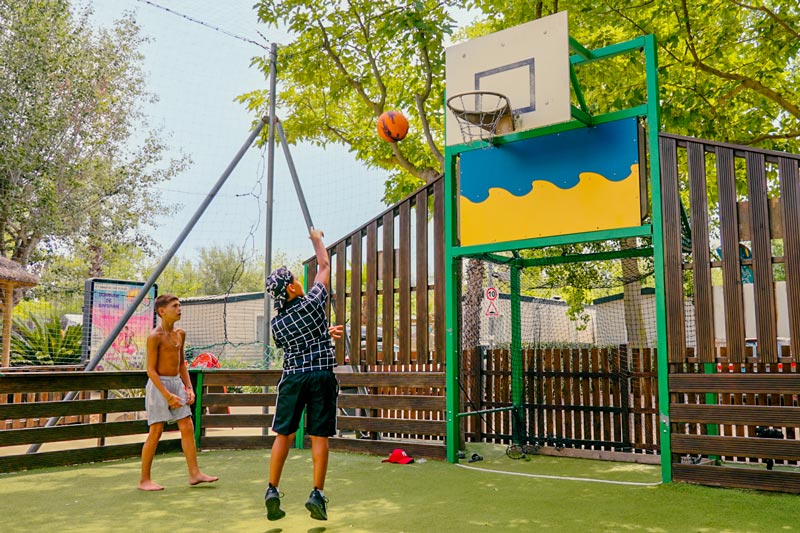 TEEN MEETING
At the family campsite in Hérault, we also take care of the older children!
Our animation team offers a range of fun and exciting activities throughout the week!
The program includes role-playing games, knowledge games, contests, outings (beach, karting, tree climbing) and much more!
Pizza and burger nights are organized to bring our teens together and create a real moment of sharing!
Multi-sports field
For the little and big sportsmen, a multi-sports ground is at the disposal of our campers for many activities!
Soccer, basketball, handball and many others … a real range of games supervised by an animator to better serve you.
This is the perfect opportunity for your children to meet new friends!
The sports schedule of the week will be posted and announced at the microphone in our camping paradise Le Cayola Vias.
Beach Volleyball court
New at Paradis Le Cayola : train on our new beach volleyball court to be the best during the tournaments organized by our animators.
Pétanque court
During the day or at night, you can take advantage of the petanque court and perhaps participate in the weekly competitions allowing you to leave with gifts.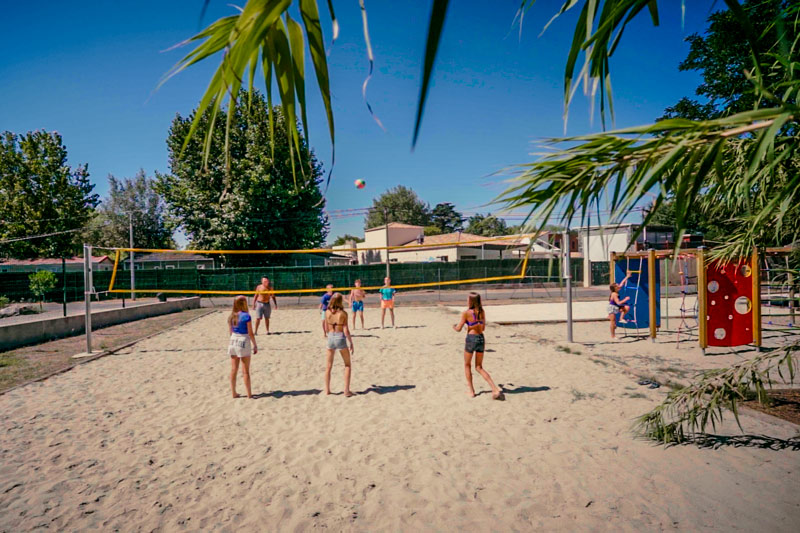 For a family camping vacation, discover also